I proudly announce My Engagement!
To Debbie Trost, With whom I will marry on July 24th, 1999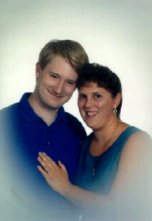 Well, I've finally decided to tie the knot. And I believe it's to the most beautiful person in the world (and that's no lie!). Debbie and I have been together since the wedding of her sister, Dorothy, to one of my great friends from SEMO, Ken. I was his Best Man and she was Maid of Honor. It's been true love ever since. You all may remember the picture of us from that wedding back on the old site. Debbie is one of the most caring, loving, (and probably the most patient) people in the world
I hope that we can live the rest of our lives with each other.
She means the world to me.
As more about the wedding (which is in the late planning stages) becomes available, I'll try to keep all of you updated.